Year 2 - Class Kite
LAST DAY OF YEAR 2! *'See you soon' video below*
Oh my goodness..how did we get here? I can't believe this day has arrived. How are you all feeling about the summer holiday? I suppose it feels a little strange because we've been away from school for so long now, we won't notice it in the same way that we usually do.
Now, just a few things that I didn't say on the video because I actually couldn't manage to say them without getting a little upset! Hold it together Miss East! Have a watch of the video here and a good read of the messages below.
Thank you:
Firstly, a HUGE thank you to all the wonderful parents. Thank you so much for your continued support; it makes such a difference working together to support your child's education and it has been brilliant getting to know you all over the year. Thank you for putting up with my constant requests of homework, projects, spellings, reading and everything else that I've asked of you. Receiving your emails and updates has been so lovely during this time and I look forward to seeing you all on the playground soon. Please do come and say hello!
Our wonderful Kites, you have been brilliant and hearing from you or seeing photos of your fabulous work, really has kept me going during the last 3 months or so. You have worked so hard and it has been an absolute joy to work with you all. We have LOVED being with you this year. I will miss having you all in our classroom shouting and chatting but I will certainly never forget this mad journey together. I am so proud of you and I know you are all going to be fantastic in Year 3! Thank you for simply being amazing and bringing so much laughter (and a few headaches) to Year 2. Mrs Moss and I will always be here for you and you will always be part of the Kites family.
Jakob - the very best of luck at your new school! You will be fantastic! Please keep in touch!
Alfie - a very happy birthday to you for the 17th August. You are our youngest member so have a brilliant day!
I know Mrs Moss is so proud of you all too and will miss you lots! She is always talking about all of you to me. Thank you Mrs Moss from all of us for your wonderful support and for being such a loved member of Kites! I know Mrs Moss will be coming to say hello lots next year to you all!
I decided not to add any new work today because you all deserve some time to play, rest and do something that makes you smile. It is fully deserved! If you wish to keep working over the holidays, don't forget the resources online including Education City, Topmarks, Oxford Owl, Accelerated Reader and BBC Bitesize.
Instead, I will set you a summer challenge: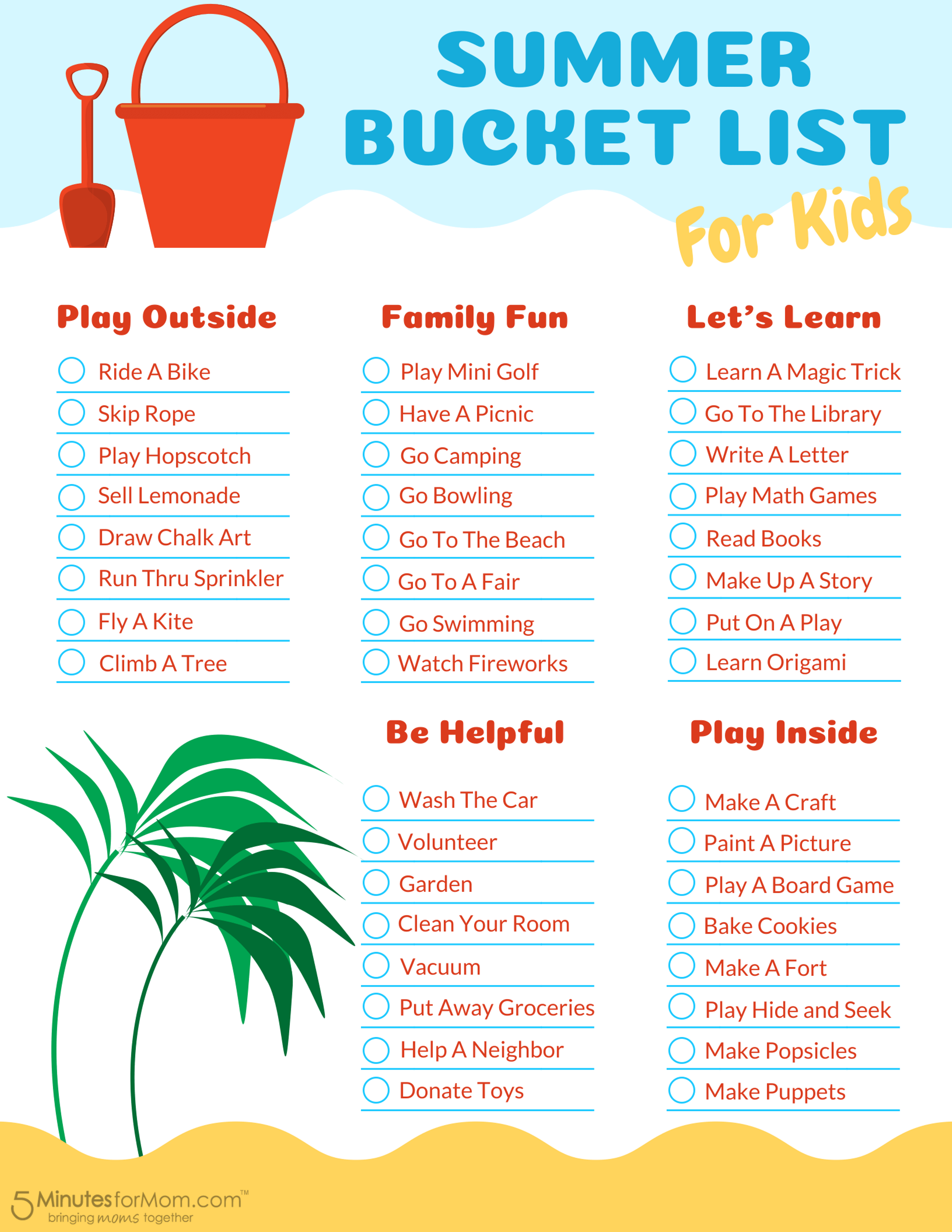 STAY SAFE AND SEE YOU ALL SOON XXX
Well-being
I will leave the well-being resources here and here for you. These are booklets with lots of ideas to help keep your minds healthy. You don't need to print them - I tried them myself at home too and I didn't print a single thing. Just write down or draw anything you like onto paper. There is also a lovely story for you to read, with some activities attached here.
Spelling
-less suffix
Here are your following words to practise and then take a look at the activities for each day below:
name help
hope cheer
thought thank
pain care
On Monday - 'Look, Say, Copy, Write, Check' on 5 of these words. Write each one out 10 times. Maybe choose the words that look trickiest to you.
On Tuesday - Choose the remaining 5 other words and write them out 10 times in capital letters only or using rainbow writing.
On Wednesday - Use a dictionary/online dictionary to find the meanings of x5 of the words and write them out in your book. Make sure you understand what they mean though, don't just copy the meanings!
On Thursday - create 8 sentences, using each spelling word in a sentence.
On Friday - Ask someone to read out some of the words (in a different order to the list on here) and try to test yourself with the -ing suffix. Can you spell them correctly? If you get any wrong, write them out again a few times then test again.
English
This week, you could have a look at another Literacy Shed video here. Remember, read through the pack first so you know when to pause the video and answer some questions. I really like this one! The activity pack is here.
I will leave the Talk for Writing booklet for you here. Try to do a few pages each day to keep you going. I will then add another lovely booklet that I have found on Wednesday for those of you who would like more work to complete!
I will then add some grammar activities each day this week. Keep going with those common exception words too.
Expanded noun phrases (a fairly simple but very important skill)
Extra work
I will also leave the common exception words here for you: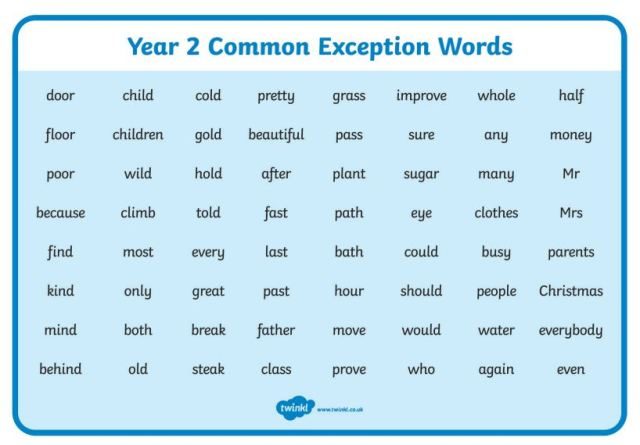 Reading
*New* Reading comprehension - choose your level (challenge yourself).
I have a new reading comprehension here for you. This one is all about honey bees.
Oxford Owl can be accessed here and you will need to enter the following details:
Username: badseykites
Password: abc1
Find the colour book band that you have been reading at school (hopefully you can all remember) and select a book to read.
Alternatively, some of you should have your details to access Accelerated Reader.
Remember, I can log in to see who has been completing their reading and the quizzes.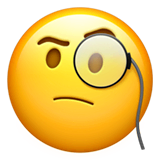 Don't forget you can listen to David Walliams reading here.
For those that love Oliver Jeffers, (I have lots of his books in my basket - Stuck, Lost and Found) he is also doing a live reading every day here.
Maths
I have a mystery game for you here. This is where lots of different skills are put together and you must solve the mystery! Have a go at this pack and see what you think. I will then upload more work each day. It's okay if you can't print; just write it out onto paper.
Adding and subtracting (Please keep this going; probably the single most important skill to keep up. Use your jottings, drawing the ten sticks and ones. Some of you may now know how to use the column method!)
P.E
real PE at home – online learning resources
New Pack: If you'd like to try some new games and activities to keep you moving, then click here for a new booklet packed with some fun ideas. You can also find more games at www.joyofmovingresourcehub.co.uk.
real PE at home includes an online programme which supports families to be active, play and learn together. It includes a programme specifically for children in Early Years and Key Stage 1 with 12 themes, 6 areas, over 250 activities and challenges and 1000s of hours of fun and activity.
There are so many benefits to being active, not only to our physical wellbeing but also to our emotional and mental health, especially in such testing times for all of us. We hope that the ideas help support you and your family to stay fit and healthy in the coming months. Here are the details to access real PE at home:
Geography
Do you know the differences between a town and the countryside? It may seem like silly question but there are some key differences that you should be aware of. Have a look at this activity first, deciding which things you would find in a town and which you'd find in the countryside. You don't need to print it, you can just decide in your head which column the pictures would go in. Then I think you might enjoy the next activity; I remember doing this when I was at school and LOVED it. I'd like you to have a go at designing YOUR own town. You can create it in any way you like. You can use any kind of paper and materials to make it. You can simply just draw it in 2D using colouring pencils which I what I did. Use the worksheet here to inspire some ideas of the sorts of things we would need in a town. You may then want to extend this further by thinking about how a town differs to a city?? There is also a video here that explains different types of communities and how they differ.
Art
I thought you might enjoy this art lesson today as something random but enjoyable to do. I have done it with Year 2s before and they always love it! Have a go at creating your own superhero background. Use the examples below to inspire you and you can use any material whether it's colouring pencils, paints, pastels...anything! You will need to do your background first and then add your buildings in. To give it more effect, make your buildings black with little yellow squares to look like lights are on. See how you get on!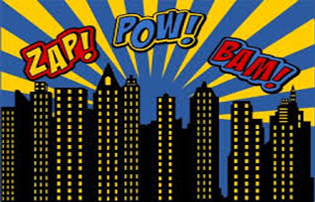 Science
Today, have a little think about sources of light. Watch the Youtube video here. You can also go through the powerpoint to think about whether different objects are a source of light. Then have a go at the activity here. This is a topic we would have briefly looked at this term, so get your thinking hats on. Why do we need sources of light? What would happen if we didn't have any?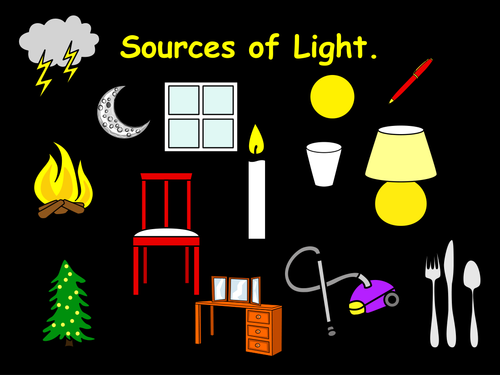 PSHCE
Have you seen who your new teacher will be for next year? How very lucky you are! As we head into the summer holidays before you officially move to Year 3, some of you may have some worries or questions about Year 3 and the new school year. Therefore, I'd like you to have a go at filling a worry jar. Fill it up with any worries or questions that you might have about next year and I will pass them on to Mrs Charnley who may be able to answer some of your questions. Don't worry if you can't print. Draw your own jar and fill it up. Find the worry jar here.

I will leave the original choice grid below for those who would still like to complete the activities from it.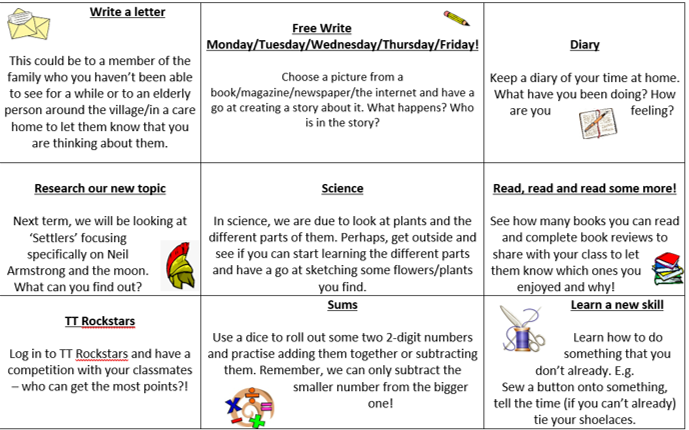 We've created an example timetable you might want to follow to build in a bit of structure to your day. Just click here to see it.
Helpful Website Links
https://ec1.educationcity.com/ (children require their personal username and password which has been stuck into the front of their reading record)
https://www.phonicsplay.co.uk/
TT Rockstars (username and password is in the front of your reading record)
https://www.bbc.com/bitesize/subjects/zgkw2hv
https://www.bbc.com/bitesize/subjects/zjxhfg8
https://www.phonicsplay.co.uk/PicnicOnPluto.html
https://www.teachyourmonstertoread.com/
https://www.oxfordowl.co.uk/for-home/reading/
https://www.storylineonline.net/
https://www.barnesandnoble.com/b/free-ebooks/nook-books/kids/_/N-ry0Z8qaZtu1
https://www.crickweb.co.uk/ks1literacy.html
https://www.coolmathgames.com/