Our Vision - The Badsey Be
s
We enable our children to develop independence
in their learning journey and to grow into inquisitive,
sociable and resilient young people.
Badsey First School is a place where people want to be.
It is a school where children and adults are valued...valued for their opinions, their beliefs, their actions.
All stakeholders are heard and welcome to contribute. The culture of the school is centred around mutual respect, kindness & optimism. Responsibility is shared at Badsey First School and determination to succeed prevails.
In order for us to achieve our vision, we have a very simple set of values, which underpin everything we do at Badsey First School:
The Badsey Be

s: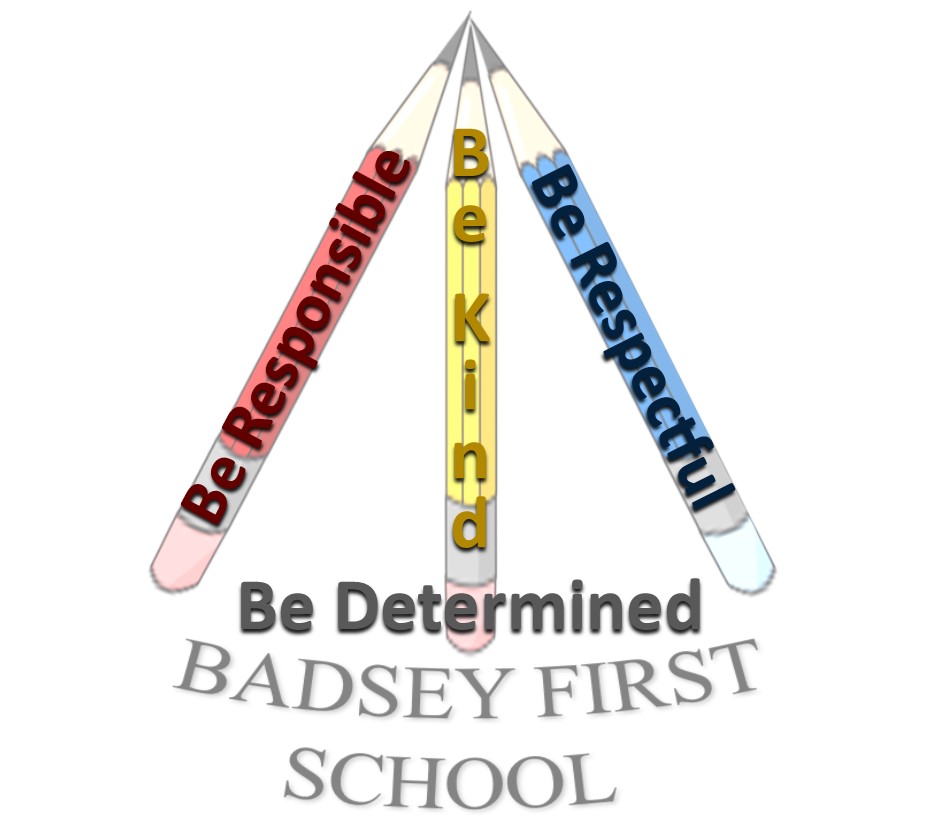 Be Responsible
We encourage children to take responsibility for their own behaviour and learn through the language of 'choice and consequence'.
Positive choices earn praise and recognition; negative choices lead to reflection and discipline.
Be Kind
We insist all children in school are kind to one another and staff always look to 'catch children being good'.
We do not tolerate any form of bullying, harassment, intimidation or racism.
Be Respectful
We uphold the rights of the individual within the school community and seek to develop high levels of mutual respect.
We treat others how we would like to be treated.
Be Determined
We work with our children to build their resilience with a determination to succeed.
We encourage children to try new things and embrace new challenges, recognising mistakes we may make along the way are just stepping stones to greater successes.
...we honestly couldn't be more pleased with what we've seen,
experienced and most importantly
how happy and thriving our child is.

- Parent quote December 2018
Children will:
Be positive and optimistic about life in school.
Take on board all the good advice they are given by teachers and take advantage of the opportunities given to develop skills such as self-control.
Tell the truth to both staff and their parents.
Accept responsibility for their actions.
Accept that sometimes things go wrong and that they may need to work to put them right.
Staff will:
Notice, recognise and appreciate all the excellent behaviours they see.
Be fair and ensure that everyone's voice is heard.
Make sure that everyone understands what action has been taken and why.
Parents will:
Support and praise the good behaviour from all children in school.
Trust that staff will fully investigate when situations occur and that they will be fair in their judgements.
Work with the school to support the behaviour of their children.
Support their children in taking responsibility for their actions.