Year 4 - Class Eagle
Welcome Back!
Hello to my lovely Eagles and parents!
We have now had a couple of weeks in school so I hope that you are feeling more settled and getting used to being back in the school environment. On this page, I have put together some key information that will be useful for both you and your parents over the Autumn Term.
What do I need to bring?
You will need to make sure that you have got a water bottle in school with you every day please. These should be filled with water only with squash and juice saved for lunch times. You will also need to bring a healthy snack with you as our break and lunch time is a little later this term as we are staggering them due to the Covid measures currently in place. It is also a good idea to make sure that you have a school jumper or cardigan with you just in case it gets a bit chilly - we have to keep windows open at the moment too!
What will we be learning about?
Our theme this term is 'Water, Water, Everywhere' with a focus on Rivers for Year 4. I have put together an overview of the learning just below for you to see but you can click the link here to download it as it is quite tricky to read!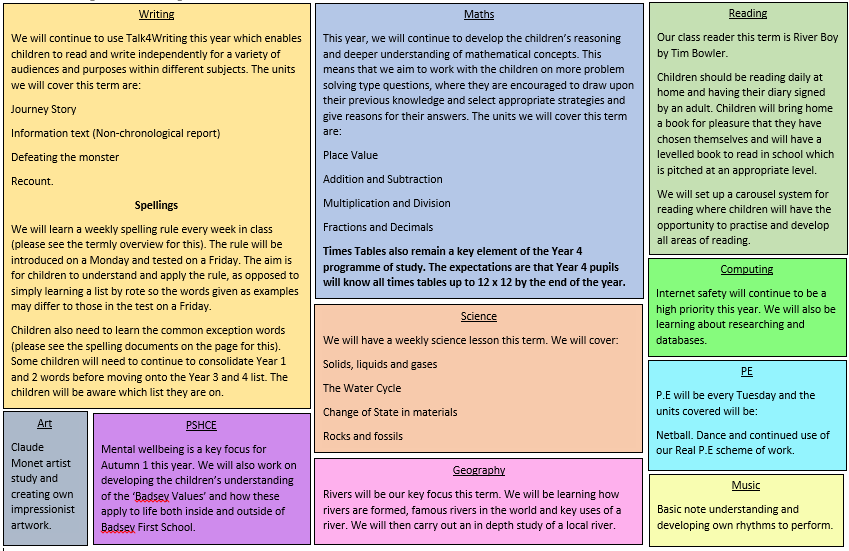 The Spelling Rule overviews can be found by clicking here. I have dated the weeks and I will endeavour to stick to these but occasionally we may need to take a little longer on a rule that we are finding more challenging to grasp.
Forest School will be on a Tuesday for this term and we will be outside in all weathers so please ensure that you have the correct kit (wellies and waterproofs).
Because of Forest School being on a Tuesday, we have had to move our P.E day to a Monday for now but it is much easier for you to bring in your P.E kit and leave it in for the half term - just make sure it goes home for a wash at the end! Your P.E kit should contain:
- A plain white or navy t-shirt (separate to your school top)
- Plain shorts (black or navy blue are fine)
- Joggers (we will aim to be outside as much as possible to comply with the Covid guidelines)
- Trainers (pumps are fine but trainers will provide better grip and protection)
Will we have homework?
Homework will follow the same system as it did last year with the expectations in Year 4 being that from Week 4:
- You read daily at home with an adult (we understand that this is not always possible but we want you to aim for this!). I will be checking the diaries every day (this is a good way for parents/carers to communicate if needed).
- You practise your times tables regularly. This can be done verbally, written or on TT Rockstars, as long as you are practising!
- You practise spellings a couple of times a week. This can be from the Year group lists above or the spelling rules outlined on the document above too.
- You complete one item from your choice grid a week. Please click

here

for a copy of this. Let me know if you need a paper copy of this and I can sort this out for you.
What if I am at home because I am isolating or awaiting a test?
There is plenty for you to be doing if you are at home! Read the above activities first of all and make sure you dedicate some time to reading, spellings and times tables. These are all things that you can do by yourself!
If you have access to an electronic device then there are lots of helpful websites below which you can use to do some different learning:
Your child is familiar with using Education City in school, which is an absolutely fantastic website for English, Maths and Science, which school subscribes to each year. It requires an individual username and password (which your child knows & uses in school). Click here to log in.
TT Rockstars is the tool we have invested in to help children learn their times tables in a fun and modern way. Your child has their own personalised login. Click here to access the website.
A few websites linked to Reading
https://www.oxfordowl.co.uk/for-home/reading/
https://www.storylineonline.net/
https://www.barnesandnoble.com/b/free-ebooks/nook-books/kids/_/N-ry0Z8qaZtu1
BBC – KS2 Bitesize – Home
This has links to all subjects for primary school aged children with areas to learn and revise. It has areas with explanations and definitions and videos to support learning.
https://www.bbc.co.uk/bitesize/primary
Punctuation, English Games for 7-11 Years – Topmarks
Trapped – Punctuation. Three punctuation games where you need to punctuate paragraphs and sentences to gain the Key of Freedom to escape from the tower.
https://www.topmarks.co.uk/english-games/7-11-years/punctuation
Thinkuknow – home
Guide to internet safety and safe surfing for young people from Think U Know. Learn about online safety when using blogs, chatting, online gaming and other forms of online communication
https://www.thinkuknow.co.uk/
Crickweb | KS2 Literacy
Free Interactive Primary or Elementary Key Stage 2 ages 6-11 years, Literacy and English Teacher Resources and fun Kids Games. English learning as a second language.
https://www.crickweb.co.uk/ks2literacy.html
Home Page : nrich.maths.org
Finding your home on NRICH. We have homes for students of different ages, teachers and parents/carers. The NRICH Project aims to enrich the mathematical experiences of all learners.
https://nrich.maths.org/frontpage
Planets For Kids – Solar System Facts and Astronomy
Welcome to Planets for Kids I really hope you enjoy the information that I have provided on this website. You will find lots of information about our solar system.
https://www.planetsforkids.org/
National Geographic Kids
National Geographic Kids explores the fascinating world we live in. Have loads of fun discovering incredible facts and information.
https://www.natgeokids.com/uk/
Woodlands Homework Help
Woodlands site has different zones for some foundation subjects (History, Geography, RE, Art and Science) and core subjects (English and Maths). Different topics can be explored too
https://www.primaryhomeworkhelp.co.uk
THANK YOU!
Thank you to all Eagle parents and carers for your support. If you do need to catch up with me for any reason then you will be able to see me in the morning at drop off or after school at pick up. Alternatively, you can contact the office to leave any messages.