Year 5 - Class Hawk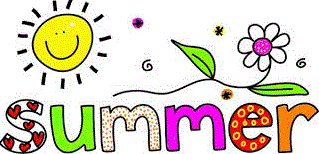 Welcome to the summer term in Hawk class
Our 18 day reset in the spring term was a huge success.
Please look at this Hawk class PowerPoint here which shows some of the activities we completed during our 18 days back in school.
Our school theme this term is 'War and Peace'. For the Year 5 children, it involves learning about British history beyond 1066: The changing monarchs, the parliamentary system and the birth of democracy. It's a fantastic topic learning about the importance of Simon De Montford and the Battle of Evesham.
The term would usually conclude with an amazing experience visiting The Houses of Parliament in London, but due to Covid, unfortunately as it stands at the moment, we are unable to visit. Instead, we are hoping our local MP will be able to visit our class to discuss government life.
I'm sure the children will thoroughly enjoy the historical focus to our learning especially participating in a class debate, campaigning and voting, and demonstrating real life democracy.
English

English lessons will follow the Talk for Writing programme, focusing on a portal story 'The Shed' with a setting description focus.
Maths

We will start the term learning about decimals, then moving onto geometry, angles, area, perimeter, time, square & cubed numbers, rounding and finishing the term with position and direction. As always, please keep learning times tables as it really is the basis of all maths and it is absolutely essential the children can recite the number facts off by heart. We will continue our 'Times Table Challenge' every Friday, where the children aim to earn a trophy for improved knowledge of their tables.
Forest School

Exciting news...... we now have 4 forest school sessions with Mr Holdaway to finish off our summer term, but please note the change of day!
Our sessions will be: Tuesday 22nd June
Tuesday 29th June
Tuesday 13th July
Tuesday 20th July
Your child will need to come to school wearing normal school uniform tops and wearing jogging bottoms. They must bring the footwear they are allowed to get dirty (wellies, walking boots or trainers) and school uniform bottoms in a bag, so they can change after forest school. If they forget to bring their change of footwear and school

clothes, it will be very difficult for them to join the forest school session.



We will be continuing our 'Move and Groove' sessions, where the children will play active games outdoors or a 'Team Challenge' as well as a PE session with Sam on a Friday. Please ensure your child has their named PE kit in school.
It is vital the children continue to read daily and we get back into the routine of signing their record books. Please encourage your child to read out loud to an adult so they can correct any wrongly pronounced words and ensure the punctuation is being adhered to (pausing at full stops and commas, acknowledging a question mark).
Everyday, the children have an opportunity to work on learning the Year 3/4 and 5/6 common exception words. Please continue to practice them at home. Our specific spelling lessons will follow the Year 5 objectives as well as a few objectives missed during the lockdowns from previous year groups.

Your child is familiar with a range of techniques we use in the classroom to learn the words: Rainbow writing the words, creating sentences which incorporate 1 or 2 words and speed write the words in 1 minute.

If your child is comfortably spelling all the words correctly, please ask them to start learning the Year 5/6 tricky words. These really are challenging!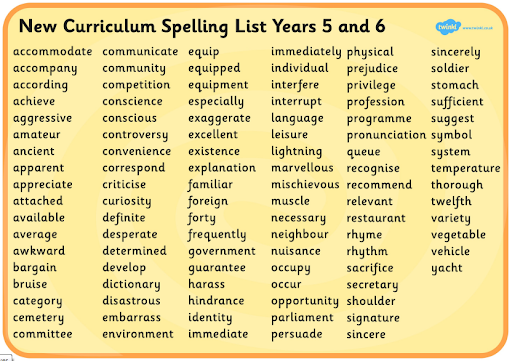 For Year 5 children, the summer term is often a time full of mix emotions. It's usually a lovely term when we get to experience warmer weather for outdoor fun but it's also the very last few weeks for the children at their primary school. We will spend plenty of time discussing 'life at middle school' later on in the term and tours of their new schools (either real or virtual) will be organised, so the children will be prepared for their next step. Please ask if there is anything we can do to support your child through the transition to their next school. More information to follow, as the term progresses.
Thank you for your continued support, especially during these uncertain times. As always, contact school or catch me in the playground on pick up, if there is anything you wish to discuss.
Stay safe
Love
Here is a comprehensive list of on-line resources we feel are excellent to use at home.
Your child is familiar with using Education City in school, which is an absolutely fantastic website for English, Maths and Science, which school subscribes to each year. It requires an individual username and password (which your child knows & uses in school). Click here to log in.
TT Rockstars is the tool we have invested in to help children learn their times tables in a fun and modern way. Your child has their own personalised login. Click here to access the website.
A few websites linked to Reading
https://www.oxfordowl.co.uk/for-home/reading/
https://www.storylineonline.net/
https://www.barnesandnoble.com/b/free-ebooks/nook-books/kids/_/N-ry0Z8qaZtu1
BBC – KS2 Bitesize – Home
This has links to all subjects for primary school aged children with areas to learn and revise. It has areas with explanations and definitions and videos to support learning.
https://www.bbc.co.uk/bitesize/primary
Punctuation, English Games for 7-11 Years – Topmarks
Trapped – Punctuation. Three punctuation games where you need to punctuate paragraphs and sentences to gain the Key of Freedom to escape from the tower.
https://www.topmarks.co.uk/english-games/7-11-years/punctuation
Thinkuknow – home
Guide to internet safety and safe surfing for young people from Think U Know. Learn about online safety when using blogs, chatting, online gaming and other forms of online communication
https://www.thinkuknow.co.uk/
Crickweb | KS2 Literacy
Free Interactive Primary or Elementary Key Stage 2 ages 6-11 years, Literacy and English Teacher Resources and fun Kids Games. English learning as a second language.
https://www.crickweb.co.uk/ks2literacy.html
Home Page : nrich.maths.org
Finding your home on NRICH. We have homes for students of different ages, teachers and parents/carers. The NRICH Project aims to enrich the mathematical experiences of all learners.
https://nrich.maths.org/frontpage
Planets For Kids – Solar System Facts and Astronomy
Welcome to Planets for Kids I really hope you enjoy the information that I have provided on this website. You will find lots of information about our solar system.
https://www.planetsforkids.org/
National Geographic Kids
National Geographic Kids explores the fascinating world we live in. Have loads of fun discovering incredible facts and information.
https://www.natgeokids.com/uk/
Woodlands Homework Help
Woodlands site has different zones for some foundation subjects (History, Geography, RE, Art and Science) and core subjects (English and Maths). Different topics can be explored too
https://www.primaryhomeworkhelp.co.uk
Wellbeing
https://happiful.com/free-guide-released-to-help-parents-talk-to-children-about-black-lives-matter/